Featured: The Work of Rachel Held Evans
Rachel Held Evans, brilliant author and wonderful person, died suddenly on May 4, 2019. She served as an inspiration to us, and we mourn her loss along with people all over the world. We encourage you to read both her books and her blog. This post in particular is one we have referred people to over and over again.
Organizations/Online Info
Here you'll find organizations from a variety of views offering input on the intersection between faith and sexuality. For more information, just click on the icons.
by Justin Lee
As a teenager and young man, Justin Lee felt deeply torn. Nicknamed "God Boy" by his peers, he knew that he was called to a life in the evangelical Christian ministry. But Lee harbored a secret: He also knew that he was gay. In this groundbreaking book, Lee recalls the events--his coming out to his parents, his experiences with the "ex-gay" movement, and his in-depth study of the Bible--that led him, eventually, to self-acceptance.
by Ken Wilson
"This is a remarkable and timely book," writes Tanya Luhrmann, an author about contemporary religious life and the Watkins University Professor in the Stanford Anthropology Department. "It is clear to an observer like me that evangelical Christianity is at a crossroad. ... That problem is the broad and widening gap between evangelical Christianity and its young. … The book you hold is a passionate and courageous argument. Many people will not like it. But they should read it and weigh whether it is true, because more hangs on the argument than the fate of gay marriage within evangelical Christianity. At its heart, this book asks Christians to rethink what God and scripture may be saying about what it means to be a good and decent person. The answer to that question will shape what the church becomes in twenty years."
by Rachel Murr
Unnatural is a collection of stories--not only of the harm religiously-inspired negative messages about homosexuality inflict, but also of redemption. Rachel uses her own story as well as personal interviews with ten other queer women and one female-to-male transgender man to tell how they were judged, lectured, kicked out of homes and families, subjected to reparative therapies, and even assaulted. Some faced homelessness, depression, suicide attempts, and pervasive shame. Still, they fought to keep their faith alive. Each demonstrated an Unnatural ability to forgive, love, believe, advocate, and heal.
by James V. Brownson
This thought-provoking book by James Brownson develops a broad, cross-cultural sexual ethic from Scripture, locates current debates over homosexuality in that wider context, and explores why the Bible speaks the way it does about same-sex relationships.
Written in order to serve and inform the ongoing debate in many denominations over the questions of homosexuality, Brownson's in-depth study will prove a useful resource for Christians who want to form a considered opinion on this important issue.
by Kathy Baldock
In Walking the Bridgeless Canyon: Repairing the Breach between the Church and the LGBT Community, Baldock uncovers the historical, cultural, medical, and political filters of discrimination through which the LGBT community is seen. With the foundation firmly established, she examines the most controversial filter of all: what the Bible says about same-sex behavior.
Baldock carefully constructs a timeline as she untangles the details of various influences and influencers. Along the way, she shares fascinating stories and testimonies enriching the historical journey. Finally, for those who are wondering how they might enter into productive and respectful conversations about the intersection of faith and sexual orientation or gender identity, this book offers the resources and tools needed to make informed and wise, Christ-centered choices.
by Lillian Faderman
The fight for gay and lesbian civil rights—the years of outrageous injustice, the early battles, the heart-breaking defeats, and the victories beyond the dreams of the gay rights pioneers—is the most important civil rights issue of the present day. In "the most comprehensive history to date of America's gay-rights movement" (The Economist), Lillian Faderman tells this unfinished story through the dramatic accounts of passionate struggles with sweep, depth, and feeling.
by Marshall B. Rosenberg, PhD
What is Violent Communication?
If "violent" means acting in ways that result in hurt or harm, then much of how we communicate—judging others, bullying, having racial bias, blaming, finger pointing, discriminating, speaking without listening, criticizing others or ourselves, name-calling, reacting when angry, using political rhetoric, being defensive or judging who's "good/bad" or what's "right/wrong" with people—could indeed be called "violent communication."

What is Nonviolent Communication?
Nonviolent Communication is the integration of four things:
• Consciousness: a set of principles that support living a life of compassion, collaboration, courage, and authenticity
• Language: understanding how words contribute to connection or distance
• Communication: knowing how to ask for what we want, how to hear others even in disagreement, and how to move toward solutions that work for all
• Means of influence: sharing "power with others" rather than using "power over others"
by Jack Rogers
Jesus, the Bible, and Homosexuality describes Rogers' own change of mind and heart on the issue, charts the church's history of using biblical passages to oppress marginalized groups, argues for a Christ-centered reading of Scripture, debunks stereotypes about people who are LGBT, refutes the conventional wisdom about the texts that are often used against people who are LGBT, and presents ideas for how the church can heal itself and move forward again. A fascinating combination of personal narrative, theology, and church history, this book is essential reading for all concerned with the future of the church and the health of the nation.
by Jeff Chu
Does Jesus Really Love Me?: A Gay Christian's Pilgrimage in Search of God in America is part memoir and part investigative analysis that explores the explosive and confusing intersection of faith, politics, and sexuality in Christian America.
The quest to find an answer is at the heart of Does Jesus Really Love Me?—a personal journey of belief, an investigation, and a portrait of a faith and a nation at odds by award-winning reporter Jeff Chu.
by Dale B. Martin
Probing into numerous questions about gender and sexuality, Dale Martin delves into the biblical texts anew and unearths surprising findings. Avoiding preconceptions about ancient sexuality, he explores the ethics of desire and marriage and pays careful attention to the original meanings of words, especially those used as evidence of Paul's opposition to homosexuality. For example, after a remarkably faithful reading of the scriptural texts, Martin concludes that our contemporary obsession with marriage--and the whole search for the "right" sexual relationships--is antithetical to the message of the gospel. In all of these essays, however, Martin argues for engaging Scripture in a way that goes beyond the standard historical-critical questions and the assumptions of textual agency in order to find a faith that has no foundations other than Jesus Christ
by Gregory Boyle
For twenty years, Gregory Boyle has run Homeboy Industries, a gang-intervention program located in the Boyle Heights neighborhood of Los Angeles, the gang capital of the world. In Tattoos on the Heart, he distills his experience working in the ghetto into a breathtaking series of parables inspired by faith.
These essays about universal kinship and redemption are moving examples of the power of unconditional love and the importance of fighting despair. Gorgeous and uplifting, Tattoos on the Heart reminds us that no life is less valuable than another.
by Martti Nissinen
Nissinen's award-winning book surveys attitudes in the ancient world toward homoeroticism, that is, erotic same-sex relations. Focusing on the Bible and its cultural environment-Mesopotamia, Greece, Rome, Israel-Nissinen concisely and readably introduces the relevant sources and their historical contexts in a readable way. Homoeroticism is examined as a part of gender identity, i.e., the interplay of sexual orientation, gender identification, gender roles, and sexual practice. In the patriarchal cultures of the biblical world, Nissinen shows, homoerotic practices were regarded as a role construction between the active and passive partners rather than as expressions of an orientation moderns call "homosexuality." Nissinen shows how this applies to the limited acceptance of homoerotic relationships in Greek and Roman culture, as well as to Israel's and the early church's condemnation of any same-sex erotic activity. For readers interested in the ancient world or contemporary debates, Nissinen's fascinating study shows why the ancient texts - both biblical and nonbiblical - are not appropriate for use as sources of direct analogy or argument in today's discussion.
by Justin Lee
In Talking Across the Divide, social justice activist Justin Lee explains how to break through the five key barriers that make people resist differing opinions. With a combination of psychological research, pop-culture references, and anecdotes from Justin's many years of experience mediating contentious conversations, this book will help you understand people on the other side of the argument and give you the tools you need to change their minds--even if they've fallen for "fake news."
by Kerry Patterson, Joseph Grenny, Ron McMillan, and Al Switzler
"[Crucial Conversations] draws our attention to those defining moments that literally shape our lives, our relationships, and our world. . . . This book deserves to take its place as one of the key thought leadership contributions of our time."
―from the Foreword by Stephen R. Covey, author of The 7 Habits of Highly Effective People
Here are some favorite novels featuring LGBTQ characters.
by Benjamin Alire Saenz
This Printz Honor Book is a "tender, honest exploration of identity" (Publishers Weekly) that distills lyrical truths about family and friendship.

Aristotle is an angry teen with a brother in prison. Dante is a know-it-all who has an unusual way of looking at the world. When the two meet at the swimming pool, they seem to have nothing in common. But as the loners start spending time together, they discover that they share a special friendship—the kind that changes lives and lasts a lifetime. And it is through this friendship that Ari and Dante will learn the most important truths about themselves and the kind of people they want to be.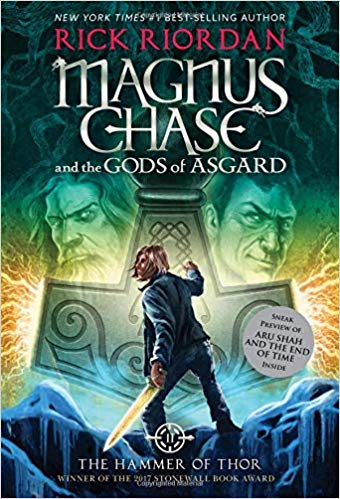 by Rick Riordan
This is the second book of Rick Riordan's Magnus Chase trilogy, and it won the Stonewall Children's Book Award for "exceptional merit relating to the gay/lesbian/bisexual/transgender experience." All three books are great (start with the first book, The Sword of Summer, so you don't get confused), but the second and third books feature a transgender, gender fluid character.
by Amy Rose Capetta
Teodora di Sangro is used to hiding her magical ability to transform enemies into music boxes and mirrors. Nobody knows she's a strega—and she aims to keep it that way.

The she meets Cielo—and everything changes.

A strega who can switch outward form as effortlessly as turning a page in a book, Cielo shows Teodora what her life could be like if she masters the power she's been keeping secret. And not a moment too soon: the ruler of Vinalia has poisoned the patriarchs of the country's five controlling families, including Teodora's father, and demands that each family send a son to the palace.

If she wants to save her family, Teodora must travel to the capital—not disguised as a boy, but transformed into one. But the road to the capital, and to bridling her powers, is full of enemies and complications, including the one she least expects: falling in love.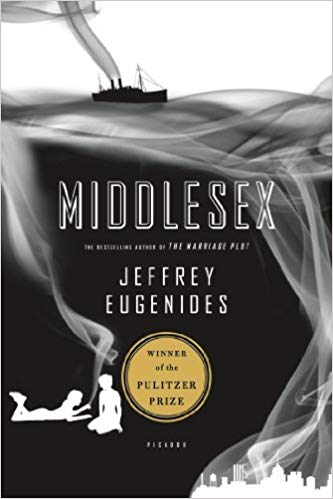 by Jeffrey Eugenides
"I was born twice: first, as a baby girl, on a remarkably smogless Detroit day of January 1960; and then again, as a teenage boy, in an emergency room near Petoskey, Michigan, in August of l974. . . My birth certificate lists my name as Calliope Helen Stephanides. My most recent driver's license...records my first name simply as Cal."
So begins the breathtaking story of Calliope Stephanides and three generations of the Greek-American Stephanides family who travel from a tiny village overlooking Mount Olympus in Asia Minor to Prohibition-era Detroit, witnessing its glory days as the Motor City, and the race riots of l967, before they move out to the tree-lined streets of suburban Grosse Pointe, Michigan. To understand why Calliope is not like other girls, she has to uncover a guilty family secret and the astonishing genetic history that turns Callie into Cal, one of the most audacious and wondrous narrators in contemporary fiction. Lyrical and thrilling, Middlesex is an exhilarating reinvention of the American epic.
Middlesex is the winner of the 2003 Pulitzer Prize for Fiction.